When:
September 25, 2017 @ 6:00 pm – 8:00 pm
America/Toronto Timezone
2017-09-25T18:00:00-04:00
2017-09-25T20:00:00-04:00
Where:
York University, Executive Learning Centre
111 Ian MacDonald Blvd
North York, ON M3J 1P3
Canada

The School of Human Resource Management at York University is proud to present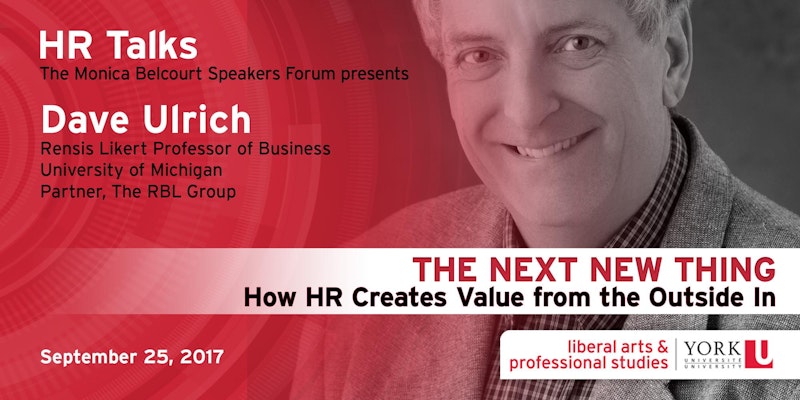 Business Week's #1 Management Guru, David Ulrich
Ticket price: $5 for students | $30 for non-students.
HR Talks: Monica Belcourt Speakers Forum is honoured to host David Ulrich on September 25, 2017. Mr. Ulrich has a passion for ideas with impact, and is ranked as the #1 management guru by Business Week, profiled by Fast Company as one of the world's top 10 creative people in business, a top 5 coach in Forbes, and recognized on Thinkers50 as one of the world's leading business thinkers. In his writing, teaching, and consulting, he continually seeks new ideas that tackle some of the world's thorniest and longest standing challenges. Ulrich is a professor of business at the University of Michigan's Ross School of Business, and co-founder of The RBL Group in addition to being an author, speaker, management coach, and management consultant.
"The Next New Thing: How HR creates Value from the Outside In" Presented by David Ulrich
HR is not about HR…it is about the business. HR has a unique opportunity to deliver value for the business. We will review four forces that increase the role of HR and we will highlight the ways HR can add more value with a focus on outside/in. The HR profession has continued to evolve from an administrative and technical/functional focus to a strategic focus. We believe that the next step in HR is to focus on "HR from the Outside In." This session will be woven around three questions to help HR professions respond to future opportunities:
1. Perspective: What is your greatest work challenge today?
2. Outcomes: What does HR uniquely bring to the strategy discussion?
3. Transformation: What are keys to HR transformation?
Participants will leave this session with the ability to better assess and improve their HR department through an outside in perspective. We will offer specific actions to improve the HR department and skills of HR professionals. For more information on David Ulrich, visit his website.
HR Talks: Monica Belcourt Speakers Forum is an annual lecture held at York University geared towards Human Resources professional. A reception with light refreshments will follow the lecture. HR professionals, alumni, students, faculty and staff are welcome to attend!
Find out more about the School of Human Resource Management.