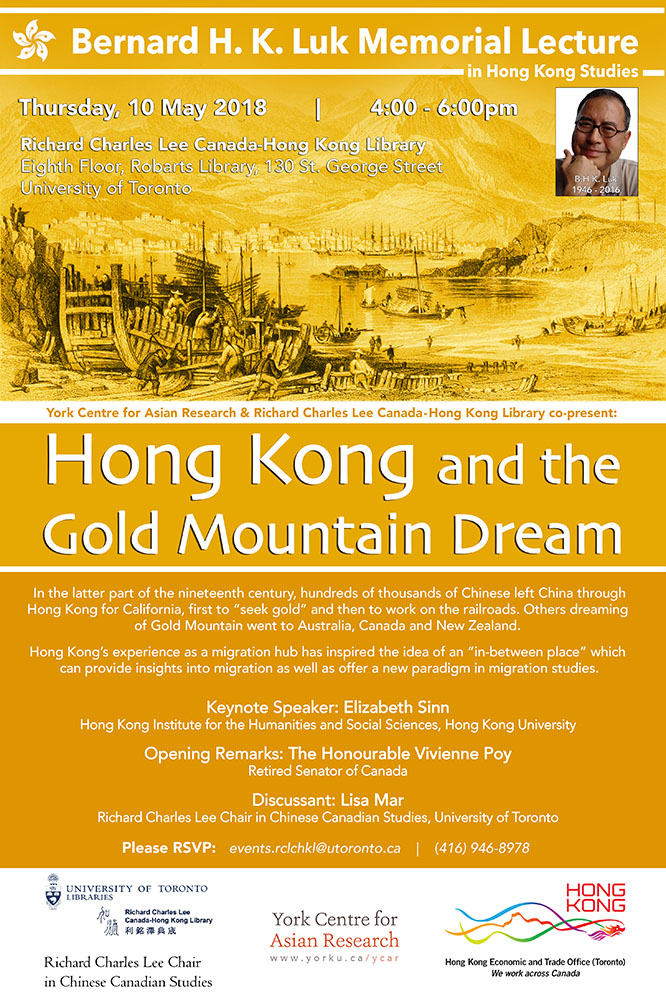 Keynote Speaker: Elizabeth Sinn, Hong Kong Institute for the Humanities and Social Science at Hong Kong University
In the latter part of the nineteenth century, hundreds of thousands of Chinese left China through Hong Kong for California, first to "seek gold" and then to work on the railroads. Others dreaming of Gold Mountain went to Australia, Canada and New Zealand.
Hong Kong's experience as a migration hub has inspired the idea of an "in-between place" which can provide insights into migration as well as offer a new paradigm in migration studies.
Opening Remarks: The Honourable Vivienne Poy, Retried Senator of Canada
Discussant: Lisa Mar, Richard Charles Lee Chair in Chinese Canadian Studies, University of Toronto
This annual lecture in memory of York University History professor Bernard H. K. Luk is co-presented by the York Centre for Asian research and the Richard Charles Lee Hong Kong Library with support from the Hong Kong Economic and Trade Office.
All are welcome.
Please RSVP to: events.rclchkl@utoronto.ca or call 416.946.8978
Facebook: https://www.facebook.com/events/1495380603905695/