When:
March 8, 2017 @ 12:30 pm
America/Toronto Timezone
2017-03-08T12:30:00-05:00
2017-03-08T13:00:00-05:00
Where:
Nat Taylor Cinema - North Ross, Room 102, York University
4700 Keele St
North York, ON M3J 1P3
Canada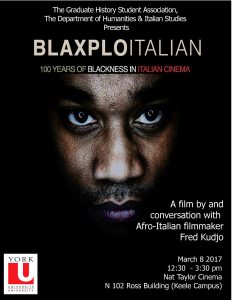 Please join the Graduate History Student's Association, in participation with the Department of Humanities and the Italian Studies Program, for our March Historian's Craft which will take place on March 8th at 12:30 in the Nat Taylor Cinema.
The event, a film screening followed by a question and answer period with the artist, will feature the work of Italo-Ghanaian filmmaker Fred Kudjo Kuwornu. In 2016, Kuwornu released his feature length documentary titled BlaxploItalian: 100 Years of Blackness in Italian Cinema. This informative piece traces the history of Black actors in Italian cinema and Black identity in a changing and increasingly diversifying Italy.
With modern day interviews and archival footage, the documentary discloses the personal struggles and triumphs that Afro-Italian, African-American and Afro-descendant actors faced in the Italian film industry, while mirroring their struggles with those of contemporary actors who are working diligently to find respectable, significant, and non-stereotypical roles, but are often unable to do so. BlaxploItalianis more than an unveiling of a troubled history; it is a call-to-action for increased diversity in international cinema through the stories of these artists in an effort to reflect the modern and racially diverse Italy.
The event and question-and-answer period will be hosted by Francesca D'Amico, a graduate student in the history department and a filmmaker of Italo-Canadian descent whose academic and filmmaking work focuses on Black identity in the diaspora.
The Nat Taylor Cinema is located on York University's Keele Campus in the North Ross Building room 102.
We hope to see you all at this amazing event!!
Chelsea Bauer and Kevin Burris
GHSA Co-Presidents