When:
November 15, 2017 @ 2:30 pm – 5:00 pm
America/Toronto Timezone
2017-11-15T14:30:00-05:00
2017-11-15T17:00:00-05:00
Where:
Room 305 Founders Senior Common Room, York University
4700 Keele St
Toronto, ON M3J 1P3
Canada

All Welcome | Book Launch
Joseph Mensah & Christopher J. Williams, Boomerang Ethics - How Racism Affects Us All. Book launch presented by the Harriet Tubman Institute,  Department of Geography & Department of Equity Studies at York University present
The event offers an opportunity for the authors to profile the book, with insights into what prompted it, their goal in writing it, and what they see as its original contribution to the fight against racism.
All are welcome to attend: we anticipate students, faculty, and staff from the sponsoring units, members of the community. Colleagues involved in the Borderless Higher Education for Refugees (BHER) project and members of the Candian Race Relations Foundation are also expected.
Boomerang Ethics - How Racism Affects Us All
The fact that racism has adverse effects on Blacks and other minorities is obvious. But what is not so obvious are the hidden impacts of racism on all members of society, including white people.
Joseph Mensah and Christopher J. Williams argue that ethics of altruism and social justice are inadequate to curb racism because they neglect the impact of racism on whites. Just like a boomerang, acts of hatred and racism against people of colour and even unsolicited and sometimes unconscious exertions of white privilege ultimately come back to harm almost everyone in society.
Timely and incredibly important, Boomerang Ethics is a much-needed resource in the fight against racism because it does not gloss over the self-interests of members of the privileged, who ultimately have the power to help alleviate racism.
Joseph Mensah is currently a member of the Senate of York University and the Chair of the Department of Geography. Christopher J. Williams is a researcher and educator who has taught at York University, Brock University and the University of Western Ontario.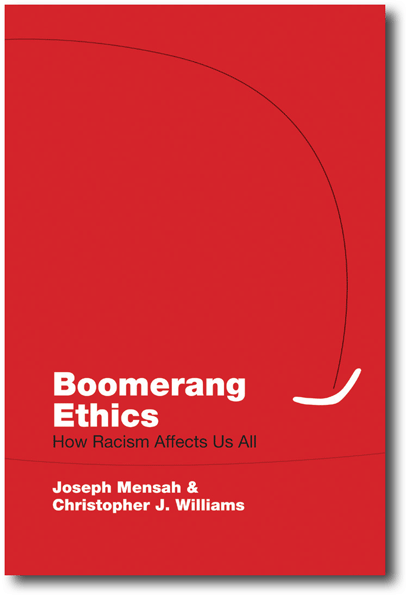 Sponsored by the Department of Geography, Department of Equity Studies, African Studies, Tubman Institute, York University Bookstore, and Fernwood Publishing