When:
November 25, 2019 @ 12:00 pm – 1:30 pm
America/Toronto Timezone
2019-11-25T12:00:00-05:00
2019-11-25T13:30:00-05:00
Where:
McLaughlin College Lunch Talk Series
140 McLaughlin College Senior Common Room
Contact:
Vicky Carnevale
416 736-2100 ext. 33824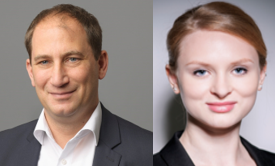 Presented by: Julia Kienast and Constantin Hruschka
MAG.A JULIA KIENAST graduated from the University of Vienna in 2014 with a general law degree and a specialization in criminology as well as European human rights. From 2015 until 2019, she was employed as a research and teaching assistant at the Department of Constitutional and Administrative Law of the University of Vienna. Ms. Kienast has published in the area of migration, asylum and human trafficking and co-edited two handbooks on pre-trial detention standards for juveniles and on radicalization of juveniles in detention. In the course of her PhD thesis, Ms. Kienast is researching sustainable and adequate instruments for the management of mass migration in Austria. Currently, Ms. Kienast is an LL.M. candidate at the University of Michigan in Ann Arbor under the auspices of Fulbright and the Michigan Grotius Fellowship Program. Ms. Kienast is, amongst others, a member of the German Netzwerk Migrationsrecht, the Viennese Refugee Law Clinic (VLC) and the Academic Council on the United Nations System (ACUNS).
CONSTANTIN HRUSCHKA  is currently working as a senior researcher at the Max Planck Institute for Social Law and Social Policy in Munich.  In this capacity he is participating in the Research Initiative of the Max Planck Society on the Challenges of Migration, Integration and Exclusion.  Constantin has previously worked inter alia with the Swiss Refugee Council (2014-2017) and with UNHCR (2004-2014) and is a Member of the Swiss Federal Commission on Migration.  He teaches European Asylum Law inter alia at Bielefeld University and his areas of research include international und European, German and Swiss asylum and migration law, human rights law, refugee law and refugee rights, integration and social rights and ethics of migration. Constantin has extensively published on asylum and migration law with a strong focus on the Common European Asylum System and its implementation
 When:  Monday, November 25, 2019 from Noon to 1:30 pm
Where:  140 McLaughlin College SCR
Poster:  Constantin Hruschka & Julia Kienast_ Poster _ Nov. 25_19