When:
November 27, 2017 @ 2:30 pm – 4:30 pm
America/Toronto Timezone
2017-11-27T14:30:00-05:00
2017-11-27T16:30:00-05:00
Where:
The Underground, Student Centre, York Lanes
4700 Keele St
Toronto, ON M3J 1P3
Canada

Contact:
Carolyn Cross
416 736 2100 ext 33197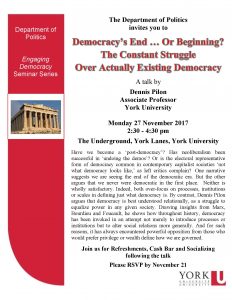 Have we become a 'post-democracy'? Has neoliberalism been successful in 'undoing the demos'? Or is the electoral representative form of democracy common in contemporary capitalist societies 'not what democracy looks like,' as left critics complain?  One narrative suggests we are seeing the end of the democratic era. But the other argues that we never were democratic in the first place.  Neither is wholly satisfactory. Indeed, both over-focus on processes, institutions or scales in defining just what democracy is. By contrast, Dennis Pilon argues that democracy is best understood relationally, as a struggle to equalize power in any given society. Drawing insights from Marx, Bourdieu and Foucault, he shows how throughout history, democracy has been invoked in an attempt not merely to introduce processes or institutions but to alter social relations more generally. And for such reasons, it has always encountered powerful opposition from those who would prefer privilege or wealth define how we are governed.
Dennis Pilon is an Associate Professor in the Department of Politics at York University. His research focuses on democracy, processes of democratization, and democratic reform, particularly the key role of class. He is author of Wrestling with Democracy, The Politics of Voting, and the lead article in the latest Socialist Register entitled "The Struggle Over Actually Existing Democracy."
Click to see full-size poster:  Poster - Dennis Pilon talk 27 Nov 2017
This is the first talk in a series of three on "Engaging Democracy". Please also join us
January 8 - Nancy MacLean, William H. Chafe Professor of History and Public Policy, Duke University
February 27 - Mel Cappe, Professor, School of Public Policy and Governance, University of Toronto