When:
March 4, 2020 @ 1:00 pm – 3:00 pm
America/Toronto Timezone
2020-03-04T13:00:00-05:00
2020-03-04T15:00:00-05:00
Where:
Room 519, Kaneff Building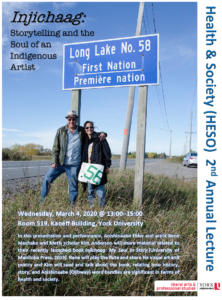 "Injichaag: Storytelling and the Soul of an Indigenous Artist"
Wednesday, March 4, 2020 @ 1-3 pm
Room 519, Kaneff Building, York University
In this presentation and performance, Anishinaabe Elder and artist Rene Meshake and Metis scholar Kim Anderson will share material related to their recently launched book Injichaag: My Soul in Story (University of Manitoba Press, 2019). Rene will play the flute and share his visual art and poetry and Kim will read and talk about the book, relating how history, story, and Anishinaabe (Ojibway) word bundles are significant in terms of health and society.
RENE MESHAKE is an Anishinaabe Elder, storyteller, visual and performing artist, award-winning author, flute player, multimedia artist and a Recipient of Queen Elizabeth II's Diamond Jubilee Medal. By blending Anishinaabe and English words into his performances, he communicates his spiritual heritage and poetics. His education includes Creative Writing from the Humber School for Writers, Anishinaabe oral tradition, language, arts and culture. He has an active on-line presence as a Funky-Elder.
KIM ANDERSON is a Metis writer and educator, working as an Associate Professor in the Department of Family Relations and Applied Nutrition at the University of Guelph. Dr. Anderson holds a PhD in history and is a Canada Research Chair in Indigenous Relationships. Her books include A Recognition of Being: Reconstruction Native Womanhood; Life Stages and Native Women: Memory, Teachings and Story Medicine and Keetsahnak: Our Missing and Murdered Indigenous Sisters.