When:
January 22, 2020 @ 7:00 pm – 9:00 pm
America/Toronto Timezone
2020-01-22T19:00:00-05:00
2020-01-22T21:00:00-05:00
Where:
Rogers Communications Centre, Room 103, RyersonU
80 Gould Street
Toronto
ON

Contact:
Edward Fenner for CFE Ryerson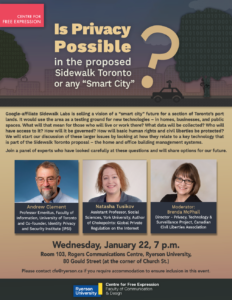 January 22nd @7pm
Room 103, Rogers Communication Centre
80 Gould Street (at the corner of Church St.), Ryerson University
On Wednesday, January 22nd at 19:00-21:00, The Centre for Free Expression will be hosting an event titled "Is Privacy Possible in the proposed Sidewalk Toronto or any "Smart City"?". This event will be a panel discussion with Andrew Clemente and Natasha Tusikov. The discussion will be moderated by Brenda McPhail.
Full details of the event are:
Google-affiliate Sidewalk Labs is selling a vision of a "smart city" future for a section of Toronto's port lands. It would use the area as a testing ground for new technologies – in homes, businesses, and public spaces. What will that mean for those who will live or work there? What data will be collected? Who will have access to it? How will it be governed? How will basic human rights and civil liberties be protected? We will start our discussion of these larger issues by looking at how they relate to a key technology that is part of the Sidewalk Toronto proposal – the home and office building management systems.
Join a panel of experts who have looked carefully at these questions and will share options for our future.
Panelists
Andrew Clement, Professor Emeritus, Faculty of Information, University of Toronto and Co-founder, Identity Privacy and Security Institute (IPSI)
Natasha Tusikov, Assistant Professor, Social Sciences (Criminology), York University, Author of Chokepoints: Global Private Regulation on the Internet
Moderator
Brenda McPhail, Director - Privacy, Technology and Surveillance Project for the Canadian Civil Liberties Association