When:
May 26, 2017 @ 9:00 am – 6:00 pm
America/Toronto Timezone
2017-05-26T09:00:00-04:00
2017-05-26T18:00:00-04:00
Where:
Room 302, Bethune College Building, York University
4700 Keele St
Toronto, ON M3J 1P0
Canada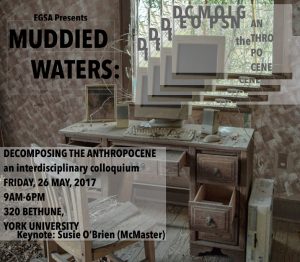 All Welcome.
9:00-9:30 Registration, greetings, and light breakfast
9:30-11:15 Panel 1
Geotrau​​ma: Topographies and Architectures
Panel chair: Tyler Ball
A.T. Kingsmith (York University), "Eco-Cartographies: Charting the Space Between
the Map and the Territory"
Polina Teif (York University), "Eulogy for a Dying Sea"
Aaron Vansintjan (Birkbeck, University of London), "Montreal peripheral: a sideways glance at the extractivist city"​​
michelle corinne liu (Toronto): "'In the Wake of …': Lines, Capital, and the
Infra- when Buildings Start Walking Away to the Sea"
---
11:30-1:15 Panel 2
Dirty Practices/Experimental Crud
Panel chair: Lauren Fournier
Maya Ben David (University of Guelph) and Tobias Williams (OCAD University), "Slime Girls"
Jessica Bebenek (Concordia), "'Something That's Dead': Metaphor, Microbiotics,
and Radicalized Empathy in the Anthropocene"
Sha Agbayani (University of the Philippines; McGill University), "Gut feelings: Fermentation & queer time under (settler)colonialism"
Hayley Rose Malouin (Brock University), "Dirty Scholarship as Resistance to Disciplinary
Domination OR The Terrible, Horrible, No Good, Very Bad Muddiness of
Interdisciplinary"
---
1:15-2:15 Lunch
---
2:30-4:15 Panel 3
Who Comes After the Post-Human?: Ecologies of Alterity
Panel chair: Justyna Pw
Andrew Godsalve (NSCAD University): "Sensing Alterity in the Theatre of Decay"
Kara Stone (University of California, Santa Cruz), "What Can Play? Post-Humanism and Videogames"
N.T. Rowan (York University), "Muddying the Waters with Blood: The Naturalization of Violence in Haraway and LeGuin"
James Boucher (Rutgers University, Camden), "Ecocritical Representations of Indigeneity in Yves Thériault's N'Tsuk and Ashini"
---
4:30-5:30 Keynote
Susie O'Brien (McMaster University): "'It's been the end of the world for somebody all
along': the Anthropocene, settler-colonialism and Indigenous resilience"
---
6pm - Head downtown for dinner