When:
November 14, 2017 @ 2:30 pm – 4:00 pm
America/Toronto Timezone
2017-11-14T14:30:00-05:00
2017-11-14T16:00:00-05:00
Where:
Ross S802
4700 Keele St
Toronto, ON M3J 1P3
Canada

Wash, Wear, and Care: Clothing and Laundry in Long Term Residential Care (McGill-Queen's University Press, 2017)
by Pat Armstrong and Suzanne Day
Crises in Canadian Work: A Critical Sociological Perspective (Oxford University Press, 2017)
by Norene Pupo, Ann Duffy, and Daniel Glenday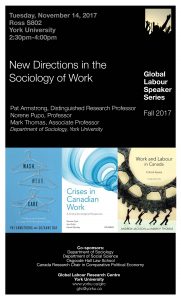 Work and Labour in Canada: Critical Issues, 3rd Edition (Canadian Scholars Press, 2017)
by Andrew Jackson and Mark Thomas
Tuesday November 14
Ross S802, York University
2:30-4:00pm
Join us for a discussion of three recent book publications that involve York sociologists Pat Armstrong (Distinguished Research Professor), Norene Pupo (Professor), and Mark Thomas (Associate Professor) engaging in themes related to the sociology of work. In Wash, Wear, and Care, Armstrong and Day assess the neglected but important labour involved in ensuring that clothes promote respect for both the washers and the wearers, analyze the part that laundry and clothing play in nursing homes, and raise questions about the wider social, political, economic, and historical contexts of these facilities. In Crises in Canadian Work, Pupo, Duffy, and Glenday provide a concise overview of current and emerging issues in the sociology of work, examining the Canadian economy and labour markets in relation to the pressures and processes of globalization. In Work and Labour in Canada, Jackson and Thomas draw upon statistics and case studies to identify the economic, social, and political processes that influence contemporary workplace environments and trends, and point to the need for more equitable and democratic strategies to reorganize work.
All are welcome. Refreshments will be served.
The Global Labour Speaker Series is co-sponsored by the York University Departments of Sociology and Social Science, Osgoode Hall Law School, and the Canada Research Chair in Comparative Political Economy