When:
March 19, 2021 @ 1:00 pm – 3:00 pm
America/Toronto Timezone
2021-03-19T13:00:00-04:00
2021-03-19T15:00:00-04:00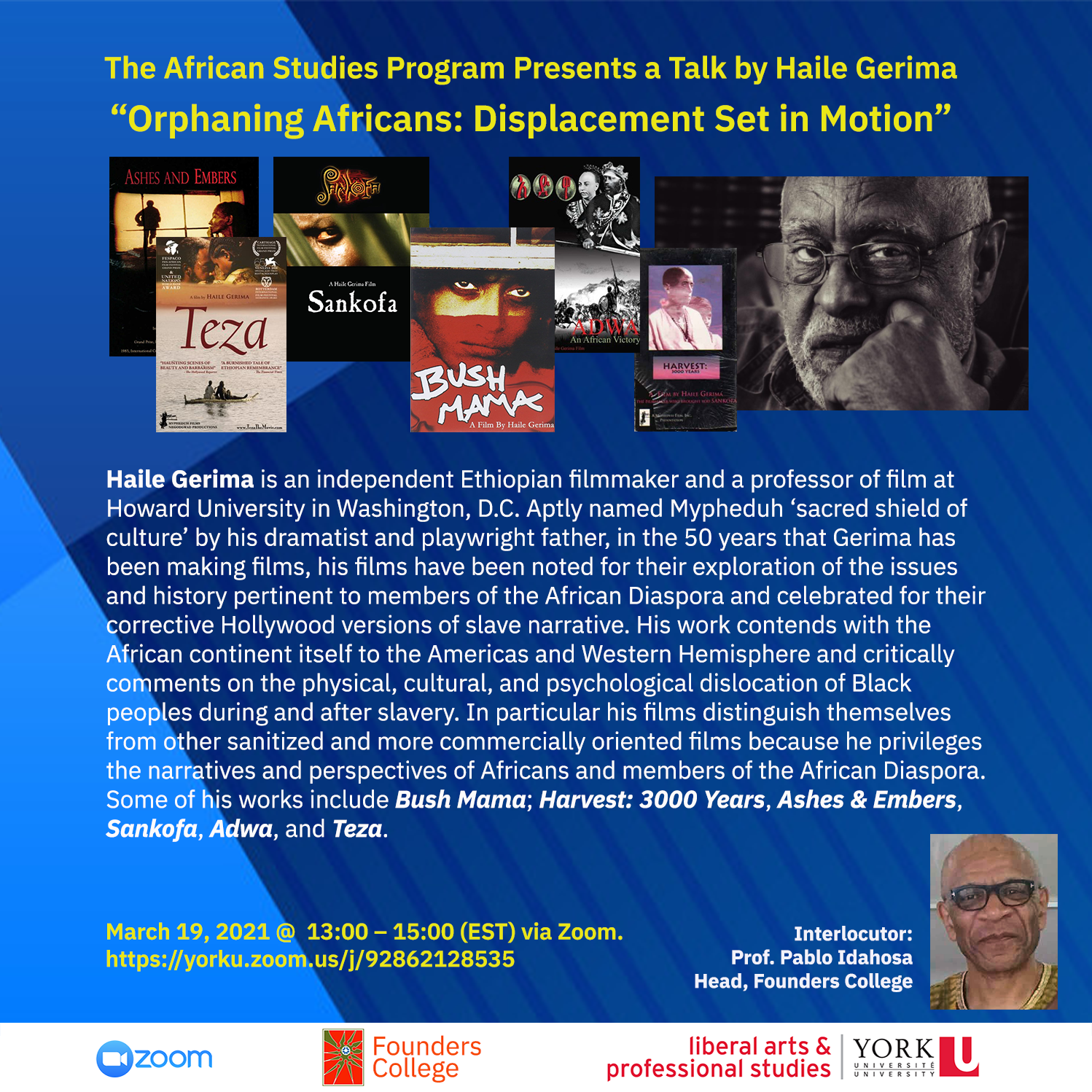 The African Studies Program Presents
a Talk by Prof. Haile Gerima
"Orphaning Africans: Displacement Set in Motion"
March 19, 2021 from 13:00 - 15:00
Haile Gerima is an independent Ethiopian filmmaker and a professor of film at Howard University in Washington, D.C. Aptly named Mypheduh 'sacred shield of culture' by his dramatist and playwright father, in the 50 years that Gerima has been making films, his films have been noted for their exploration of the issues and history pertinent to members of the African Diaspora and celebrated for their corrective Hollywood versions of slave narrative. His work contends with the African continent itself to the Americas and Western Hemisphere and critically comments on the physical, cultural, and psychological dislocation of Black peoples during and after slavery. In particular, his films distinguish themselves from other sanitized and more commercially oriented films because he privileges the narratives and perspectives of Africans and members of the African Diaspora. Some of his works include Bush Mama, Harvest: 3000 Years, Ashes & Embers, Sankofa, Adwa, and Teza. 
Interlocutor: Prof. Pablo Idahosa, Head, Founders College.
Zoom Link: https://yorku.zoom.us/j/92862128535 
Film links on the Internet Movie Database (IMDb)