When:
October 7, 2019 @ 1:00 pm – 2:30 pm
America/Toronto Timezone
2019-10-07T13:00:00-04:00
2019-10-07T14:30:00-04:00
Where:
701 Ross Building South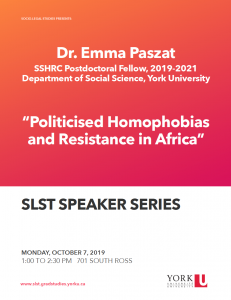 View the event poster. (PDF)
Abstract - In recent decades there have been significant changes in rights for lgbt people globally, but there have also been backlashes in states where rights have been won and where they have not. These backlashes include politicized homophobias, actions states take to dehumanize and police gender and sexual diversity. I analyse how resistance occurs against these politicized homophobias, even in contexts where they appear to be highly popular amongst political leaders and the public. I demonstrate that the perception that politicized homophobias can be used to gain cheap popularity for a government can be altered. I argue that activism can change political processes on politicized homophobia legislation, specifically analysing cases in Uganda, Burundi, and Rwanda.
Dr. Emma Paszat has a PhD in Political Studies from Queen's University and is currently a SSHRC postdoc working with Dr. Miriam Smith in the Department of Social Science. Dr. Paszat's work analyses politicized homophobias in Africa and domestic and transnational activism against them. Dr. Paszat has published in Third World Quarterly and Sexualities, and is currently working on a book manuscript based on her doctoral work.