When:
October 5, 2020 @ 2:30 pm – 4:00 pm
America/Toronto Timezone
2020-10-05T14:30:00-04:00
2020-10-05T16:00:00-04:00
Where:
Zoom (request link)

Contact:
Melissa Falotico, Interim Graduate Program Assistant, SLST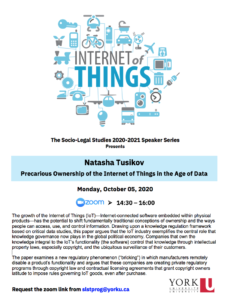 Socio-Legal Studies Speaker Series - Fall 2020
Monday, October 05, 2020
Natasha Tusikov - Precarious Ownership of the Internet of Things in the Age of Data
The growth of the Internet of Things (IoT)—Internet-connected software embedded within physical products—has the potential to shift fundamentally traditional conceptions of ownership and the ways people can access, use, and control information. Drawing upon a knowledge regulation framework based on critical data studies, this paper argues that the IoT industry exemplifies the central role that knowledge governance now plays in the global political economy. Companies that own the knowledge integral to the IoT's functionality (the software) control that knowledge through intellectual property laws, especially copyright, and the ubiquitous surveillance of their customers.
The paper examines a new regulatory phenomenon ("bricking") in which manufacturers remotely disable a product's functionality and argues that these companies are creating private regulatory programs through copyright law and contractual licensing agreements that grant copyright owners latitude to impose rules governing IoT goods, even after purchase.
Request the zoom link from slstprog@yorku.ca