When:
October 29, 2019 @ 10:30 am – 12:00 pm
America/Toronto Timezone
2019-10-29T10:30:00-04:00
2019-10-29T12:00:00-04:00
Where:
701 Ross Building South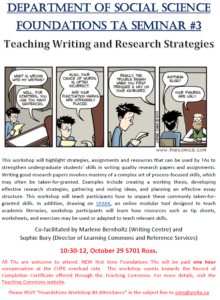 This workshop will highlight strategies, assignments and resources that can be used by TAs to strengthen undergraduate students' skills in writing quality research papers and assignments. Writing good research papers involves mastery of a complex set of process-focused skills, which may often be taken-for-granted. Examples include creating a working thesis, developing effective research strategies, gathering and noting ideas, and planning an effective essay structure. This workshop will teach participants how to unpack these commonly taken-for-granted skills. In addition, drawing on SPARK, an online modular tool designed to teach academic literacies, workshop participants will learn how resources such as tip sheets, worksheets, and exercises may be used or adapted to teach relevant skills.
Co-facilitated by Marlene Bernholtz (Writing Centre) and Sophie Bury (Director of Learning Commons and Reference Services)
10:30-12:00, October 29 701 Ross South.
All TAs are welcome to attend. NEW first-time Foundations TAs will be paid one hour compensation at the CUPE overload rate. This workshop counts towards the Record of Completion Certificate offered through the Teaching Commons. For more details, visit the Teaching Commons website.
Please RSVP "Foundations Workshop #3 Attendance" in the subject line to sims@yorku.ca