When:
March 12, 2019 @ 10:00 am – 11:30 am
America/Toronto Timezone
2019-03-12T10:00:00-04:00
2019-03-12T11:30:00-04:00
Where:
701 Ross Building South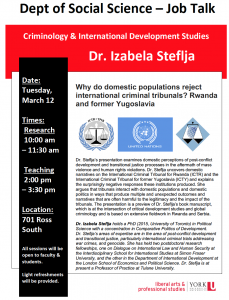 SOSC - Job Talk - Criminology and International Development Studies (CRIM/IDS) with Dr. Izabela Steflja (Tulane University).
Research: 10:00 - 11:30      Teaching 14:00 - 15:30
Open to all faculty and students.
Dr. Steflja's presentation examines domestic perceptions of post-conflict development and transitional justice processes in the aftermath of mass violence and human rights violations. Dr. Steflja uncovers domestic narratives on the International Criminal Tribunal for Rwanda (ICTR) and the International Criminal Tribunal for former Yugoslavia (ICTY) and explains the surprisingly negative responses these institutions produced. She argues that tribunals interact with domestic populations and domestic politics in ways that produce multiple and unexpected outcomes and narratives that are often harmful to the legitimacy and the impact of the tribunals. The presentation is a preview of Dr. Steflja's book manuscript, which is at the intersection of critical development studies and global criminology and is based on extensive fieldwork in Rwanda and Serbia.
See the poster for more information.