When:
March 20, 2019 @ 12:00 pm – 1:30 pm
America/Toronto Timezone
2019-03-20T12:00:00-04:00
2019-03-20T13:30:00-04:00
Where:
140 McLaughlin College, Senior Common Room
77 McLaughlin Rd North York ON M7A 2C5 Canada
Contact:
Vicky Carnevale
416-736-2100 Ext: 33824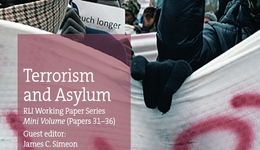 Two pressing concerns that have dominated the international community, the news media, and, segments of the public, and, the governments of many western liberal democracies, for some time now, are terrorism and asylum. Sadly, these two highly charged emotive terms often have been conflated and distorted for political purposes and to advance specific public policy ends. This talk will review a recent online publication of the Refugee Law Initiative, School of Advance Study, University of London, mini-volume Working Paper Series that examines "Terrorism and Asylum" from a number of perspectives in an effort to unravel 'the myths from the reality' to come to a clearer and better understanding of both terms and the most effective ways forward in their amelioration and address.
Poster: Terror and Asylum__Poster_March 20_19
Speaker: James C. Simeon
Date: Wednesday, March 20, 2019
Time: 12:00 pm - 1:30 pm
Location: Senior Common Room, 140 McLaughlin College
For further information, please contact Vicky Carnevale at: x: 33824 or vcarneva@yorku.ca
Hosted by the Office of the College Head, McLaughlin College.