When:
December 10, 2020 @ 12:30 pm – 2:00 pm
America/Toronto Timezone
2020-12-10T12:30:00-05:00
2020-12-10T14:00:00-05:00
Where:
McLaughlin College Lunch Talk Series
via Zoom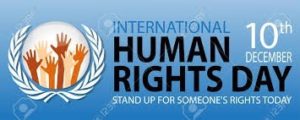 2020 Theme: Recover Better - Stand Up for Human Rights
International Human Rights Day, 10 December, commemorates the day on which, in 1948, the United Nations General Assembly adopted the Universal Declaration of Human Rights (UDHR).  The UDHR is one of UN's major achievements as well as the first enunciation of human rights across the world.  Adopted on 10th December 1948, the Declaration stipulates universal values and a shared standard of achievement for everyone in every country. While the Declaration is not a binding document, it inspired over 60 human rights instruments that today make a common standard of human rights. This year's Human Rights Day theme relates to the COVID-19 pandemic and focuses on the need to "build back better" by ensuring human rights are central to recovery efforts. We will reach our common global goals only if we are able to create equal opportunities for all, address the failures exposed and exploited by COVID-19, and apply human rights standards to tackle entrenched, systemic, and intergenerational inequalities, exclusion, racism, and discrimination. 10 December is an opportunity to reaffirm the importance of human rights in re-building the world we want, the need for global solidarity as well as our interconnectedness and shared humanity.
When:  Thursday, December 10, 2020 from 12:30 - 2:00 PM
Poster:  UN International Human Rights Day_Poster_Dec. 10_2020
CLICK here to register:  https://yorku.zoom.us/meeting/register/tJ0vfuqtrDIjEtW8GMyiHFCXGnM-DT9l5tfZ