When:
October 6, 2020 @ 2:30 pm – 4:00 pm
America/Toronto Timezone
2020-10-06T14:30:00-04:00
2020-10-06T16:00:00-04:00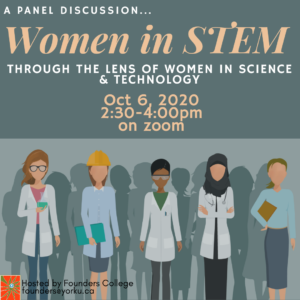 Through the lens of women in Science and Technology.
This panel will feature:
Marina G. Erechtchoukova
Associate Professor, Information Technology, York University (Moderator)
Professor Erechtchoukova's research focuses on application of information technology to sustainable environmental resource assessment and management. It includes investigation and development of modern approaches to optimization of environmental monitoring, simulation modeling of water quality for environmental assessment, environmental assessment under uncertainty. Her interests include data-driven decision support for environmental sustainability, data modeling and database development for semistructured data, simulation modeling of complex systems and information systems development.
Eshta Bhardwaj
Graduate Student, Master of Arts in Information Systems & Technology, York University
Eshta Bhardwaj is a new student in the MAIST program with an interest in data management, analytics, and data mining. She has been actively involved with events such as Elle Hacks. She is currently working on a research project on the IT analysis and modelling of vector-borne diseases while working with Toronto Humane Society to create automated reports for shelter medical metrics. 
Christianne Huber
Graduate Student, Master of Arts in Information System & Technology, York University
Christianne Huber started her career in banking.  After taking some computer courses, she found that she was interested in Information Technology.  She completed credit courses for a diploma in Computer Programming, which made it possible for her to move into a technical role.  She held several roles until finally, as a senior technical resource, she made the difficult but exciting decision to leave the company to pursue other interests.  A few years later, she sought to return to the technical field, and realized that it was necessary to have a degree.  She achieved her life-long goal of completing her degree by graduating with a Bachelor of Arts in Information Technology.  She is currently working towards a Master's of Arts in Information Systems and Technology.
Krystaleah Ramkissoon
BCom, ITEC, Undergraduate Student.
Krystaleah Ramkissoon is a BCom ITEC student in the e-Commerce development stream who has created the club, Tech Doc, which provides free tech support to all York University students as well as other educational opportunities. In their first year of operation, Krystaleah and her team fostered partnerships with CompTIA, a non-profit trade association that issues IT certifications and RBC. Her interest in tech began in high school when she joined a computer science class where she learned Turing and later Java. Being a complete beginner, she didn't even know computers were coded using programming languages. In 2016, Krystaleah began private tutoring Discrete Mathematics and Java programming to gain technical experience. She started working in the tech industry in 2017 in computer hardware retail, then quickly moved into technological education. Teaching young students between the ages of 5 - 15 how to program in languages such as Dash & Dot, Scratch, Python, and JavaScript, for almost 2 years. This past fall semester, she completed an internship at Ontario Teachers' Pension Plan as a Systems Analyst. Even though Krystaleah has always been one of few females among her peers in every technological setting she participated in, this doesn't stop her from pushing the boundaries of what is possible for a woman of colour in tech.
Ashley Shalmoni
PH.D Student, Gender, Feminist & Women's Studies.
Ashley received her Masters degree in Gender Studies and Feminist Research from McMaster University and wrote her independent research project on the need for a gender analysis when analyzing the barriers women in Science, Technology, Engineering, and Mathematics (STEM) fields face. As a Ph.D. student in the Gender, Feminist, and Women's Studies department here at York University Ashley's area of research examines the underrepresentation of women in STEM fields. More specifically, her research will look at what policies and programs at the institutional level are available for women across Canadian University campuses.
Zeynep Tuck
BA '02; Founder & Head of Content at Özlü Creative + Community
Zeynep Tuck is a sucker for a good story. In fact, it's been the compass for her career. From the sales pits of PR firms and the boardrooms of the private sector to the newsrooms of global media outlets, Zeynep is a strategic storyteller who engages and influences communities in meaningful ways. In the last five years, her focus has shifted into philanthropic projects. During this time, she worked with Microsoft News to help raise awareness and $1M+ for COVID-19 relief, environmental conservation, LGBTQ+ youth, STEM for girls, and racial justice organizations. Amid the pandemic and racial reckoning, organizations were struggling to tell their brand stories. Zeynep responded by launching Özlü Creative + Community, a content production and community-elevation studio that helps organizations create meaningful connections with communities in this unprecedented time. Zeynep takes a strategic and collaborative approach to communications and content marketing -- the result is influential, inclusive brand stories and data-driven thought leadership content that drive communities to act. Zeynep does things a little differently, rather than simply consult, she nurtures existing communications and content/marketing talent by hosting workshops that focus on inclusive storytelling, influence building and media pitching, as well as in-house content strategy and production best practices. Zeynep is always looking to take on projects with strategic partners that want to make an impact on their communities. 
This event requires registration. To RSVP click here.