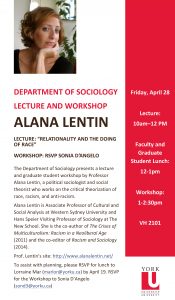 The Department of Sociology presents a lecture and graduate student workshop by Professor Alana Lentin, a political sociologist and social theorist who works on the critical theorization of race, racism, and anti-racism.
Alana Lentin is Associate Professor of Cultural and Social Analysis at Western Sydney University and Hans Speier Visiting Professor of Sociology at The New School. She is the co-author of The Crises of Multiculturalism: Racism in a Neoliberal Age (2011) and the co-editor of Racism and Sociology (2014).
To assist with planning, please RSVP for lunch to Lorraine Mar (marlor@yorku.ca) by April 19. RSVP for the Workshop to Sonia D'Angelo (sond3@yorku.ca).